Sport Relief 2018
Through March, the children and staff took part in extra sporting activities. Before the day started, several sports ambassadors and staff members could be seen running their daily mile around the village (revealing some very talented runners - though not in the staff!).
Mrs Johnson and her sports ambassadors then organised and ran a different lunchtime activity each day: Hula-hooping, skipping, netball target, Boogie Thursday and football keepie-uppie. Prizes were awarded for the best participants in ks1&2 fr each event, though the winners were everyone who took part.
Galleries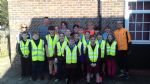 25 children from years 4 and 5 travelled to Barnes Wallis today to take part in the Sports stars Rugby and Hockey tournament. The day started with the groups having a short training session, lead by some of the students from the academy.
It was a very cold day but despite this the children got stuck in, trying sports that they have not necessarily been doing very long. Well done to all who took part. Our rugby teams came 7th and 8th and our hockey teams came 4th and 6th.