Bikeability
The year 5s took to the road in April as they were taught how to ride their bikes safely. Not only fun, the main focus of the instruction is to navigate the roads and become a considerate, and safe road user. Instructors from Outspoken Training put the children through their paces: teaching them how to handle their bikes on the playground before allowing them on the road. They then followed each other out and mastered signalling and manouvering around the village routes.
Galleries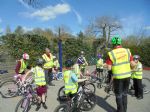 Bikeability
Round House Rebuild!
As part of the Stone Age to Iron Age topic, Clas F had a go at modelling to recreate an Iron Age settlement. They tried to replicate the techniques used as closely as possible: driving vertical posts into the ground then weaving a wall frame between the posts - Wattle. Daub was then used to fill in the gaps and make weather proof before the roof frame was added with straw to finish. All this surrounded the focus point in the centre of the house - the fire.
Galleries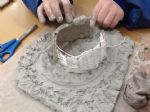 Round House Construction
Class F were treated to a day of Chinese culture: learning about how children exercise and where the intricate movements originated, whilst picking up little details of their daily lives.
This was not only a valuable experience to learn about other cultures, but was being filmed by high school students from St Giles and, along with other schools in our collaboration, we will go and see the finished product to be screened at The Kinema in the Woods!
Galleries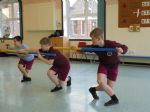 Chinese Culture Day
Class F have been grappling with prehistoric times this term. We started our topic off with a visit to Flag Fen, near Peterborough. Once settled, we created a human timeline in order to get everything into relevance. Then we were off to 'become trainee archaeologists'. We learnt that artifacts are found in the ground and can be aged by how deep they are and by other objects found at the same level. This was an amazing activity, and one which captured the attention of the children.
After an informative walk around the site (learning facts such as prehistoric man made underwear from nettles) we had a look at some canoes that had been excavated nearby and were being preseved in tanks. We rounded the day off with an ancient folk-tale around the fire in a bronze age reconstructed house.
After our visit, the class has been learning about the way early man (and woman) lived, and how their lives were transformed by the discovery of farming - allowing them to settle down in communities rather than roaming around as hunter/gatherers.
We are in the process of making our own bronze age village - keep looking out for the next instalment!
Galleries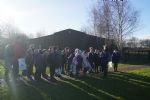 Flag Fen Photos
Always prepared, Class F spent a week carrying round their gas mask boxes to try and get a feel for what children went through in the war. We then decided to put out craft skills to further use and make gas masks to go in the boxes.