Class F
Welcome to Class F
We are a class of 29 students from Years 5 & 6. Our teacher is Mr Midgley and we have various Teaching Assistants on different days: Mrs Johnson, Mr Robinson and Mrs White.
Our topic this term is 'Space'
Our Timetable
We have PE on Thursdays and Fridays this term. (some pupils will be swimming on Thursday)
Please have your PE kit in school all week as sometimes we swap our PE day over.
We usually have science on a Tuesday.
Netball Bronze Medalists!
5...4...3...2...1...BLAST OFF!
5...4...3...2...1...BLAST OFF!
As part of our Space topic, Class F have been desining and making model rockets. The design was to encompass the different stages of the rockets and it had to seperate. The children's cutting skills and glueing accuracy was tested to their limit (as was the strength of the vacuum at clean-up time!)
The results are super however and worth all the chaos and mess.
Galleries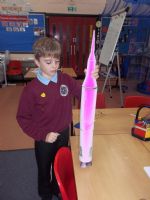 Class F ready for take-off!
Year 5s on the road!
Bikeability
The year 5s took to the road in April as they were taught how to ride their bikes safely. Not only fun, the main focus of the instruction is to navigate the roads and become a considerate, and safe road user. Instructors put the children through their paces: teaching them how to handle their bikes on the playground before allowing them on the road. They then followed each other out and mastered signalling and manouvering around the village routes.
Galleries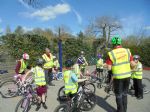 Bikeability