Class F took part in this year's Church Schools' Festival at Lincoln Cathedral. Over several days, church schools (almost 100 schools- nearly 3000 children in all) from all over Lincolnshire have come together to take part in activities. Once we had arrived and been shown to our seats, there was a simple welcome and then we all went to sit in St Hugh's Quire - the choir stalls - for some lessons in singing. Within 30 minutes we were harmonising with other schools, sending angelic sounds around the cathedral.
Then we split into two groups - one went off to learn about Godly Play, and the other to learn about stonemasonry in the Cathedral. The last activity of the morning was a cathedral tour.
After lunch, all the schools came back together for a service in which the school banners were blessed and then paraded.
All in all, it was a wonderful day spent with other schools who share a common belief and ethos.
Galleries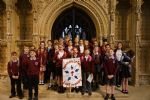 In March this year, Class F took part in Chinese Culture Day. This project was filmed by Giles Academy pupils and, along with many other primary schools, Class F were treated to the premiere at Kinema in the Woods on 12th June 2018. The resulting compilation of clips showed each school learning a different dance which was mixed with some martial arts moves. What an amazing final product! Initial giggles of embarassment gave way to fascination as the children watched each school's contibution. A great way to spend a morning!
Bikeability
The year 5s took to the road in April as they were taught how to ride their bikes safely. Not only fun, the main focus of the instruction is to navigate the roads and become a considerate, and safe road user. Instructors from Outspoken Training put the children through their paces: teaching them how to handle their bikes on the playground before allowing them on the road. They then followed each other out and mastered signalling and manouvering around the village routes.
Galleries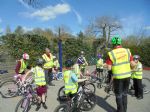 Bikeability
Round House Rebuild!
As part of the Stone Age to Iron Age topic, Clas F had a go at modelling to recreate an Iron Age settlement. They tried to replicate the techniques used as closely as possible: driving vertical posts into the ground then weaving a wall frame between the posts - Wattle. Daub was then used to fill in the gaps and make weather proof before the roof frame was added with straw to finish. All this surrounded the focus point in the centre of the house - the fire.
Galleries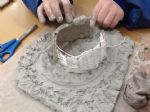 Round House Construction
Class F were treated to a day of Chinese culture: learning about how children exercise and where the intricate movements originated, whilst picking up little details of their daily lives.
This was not only a valuable experience to learn about other cultures, but was being filmed by high school students from St Giles and, along with other schools in our collaboration, we will go and see the finished product to be screened at The Kinema in the Woods!
Galleries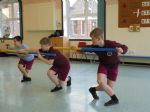 Chinese Culture Day