Class F have been grappling with prehistoric times this term. We started our topic off with a visit to Flag Fen, near Peterborough. Once settled, we created a human timeline in order to get everything into relevance. Then we were off to 'become trainee archaeologists'. We learnt that artifacts are found in the ground and can be aged by how deep they are and by other objects found at the same level. This was an amazing activity, and one which captured the attention of the children.
After an informative walk around the site (learning facts such as prehistoric man made underwear from nettles) we had a look at some canoes that had been excavated nearby and were being preseved in tanks. We rounded the day off with an ancient folk-tale around the fire in a bronze age reconstructed house.
After our visit, the class has been learning about the way early man (and woman) lived, and how their lives were transformed by the discovery of farming - allowing them to settle down in communities rather than roaming around as hunter/gatherers.
We are in the process of making our own bronze age village - keep looking out for the next instalment!
Galleries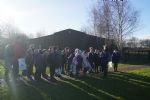 Flag Fen Photos
Always prepared, Class F spent a week carrying round their gas mask boxes to try and get a feel for what children went through in the war. We then decided to put out craft skills to further use and make gas masks to go in the boxes.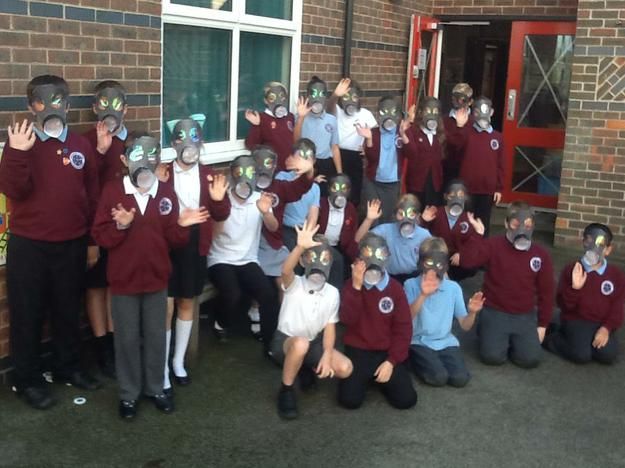 As part of our world war 2 topic, we decided to take a long, but worthwhile, visit to the Imperial War Museum at Duxford in Cambridgeshire. An early start didn't suppress the excitement - this subject certainly seems to have the class buzzing. We were particularly focusing on the Home Front elements of this vast museum. The children had a question sheet that guided them around the exhibits and guided them to consider what it must have been like to have lived in those times.
Galleries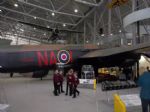 Duxford visit