23/05/2019 Pinewood Derby build and race season finishes in style!
Pinewood Derby
As part of an after-school club, some children from Class F were given a block of pine and asked to make it into a racer by the end of term. Designs were drawn out; wood was shaped (with the bonus of the same number of fingers at the end!); paint was delicately applied; wheels were reduced of their friction; and finally, after weeks in the pits - race day arrived.
Over 16 races, the children's lanes were drawn randomly and points awarded for places. There was also a vote by the whole of class F for the most creative design.
Galleries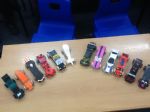 Pinewood Derby 2019