16/03/2019 Build a bridge - Science week 2019
As part of science week 2019, parents were invited to come along to help their children build a bridge. There were boxes of K-Nex, paper straws, and for the more adventurous engineers, sheets of A4 paper!
The afternoon was split into age ranges to allow access for all. The best part of the event was watching children create something, then modify it to make it better after testing. Rest assured, with this level of commitment and attention to detail, the future of British engineering is safe in their hands!
Galleries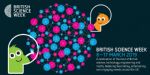 Science Week - Build a Bridge